New Baby Flowers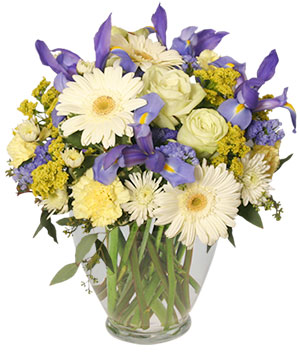 Welcome Baby Boy
Flower Arrangement
Send sweet salutations with this breathtaking bouquet! With gorgeous white gerberas, lovely blue iris, beautiful white spray mums, stunning pale yellow carnations, and more, this elegant arrangement is the perfect way to welcome that bundle of joy!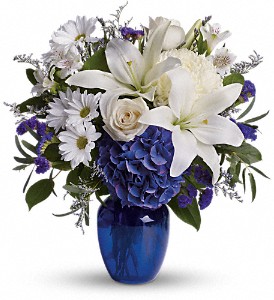 Send New Baby Flower Arrangements
Send a gift of fresh flowers in pink blue yellow or mixed color flowers to congratulate parents on their new arrival. Need a Inland Bouquet for hospital flower delivery? No worries this Flower shop in San Bernardino provides hospital flower delivery daily. With a large selection of it's a boy flowers as well as it's a girl flowers we are your Inland Bouquet Florist you've been looking for! Our new baby flowers may arrive at any location by your favorite local florist. A new parents hands are already full with their newborn, let us do the hard work in preparing a way to make them smile. Our beautiful ginger and cube vases are often used over and over again, so this makes for a great gift to be used in a nursery for fresh cut flowers.
No matter if "It's A Boy" or "It's A Girl!" sending flowers and gifts from Inland Bouquet is always the smart and happy choice. We can use different types of flowers with assortments of colors to help shine joy for the newborn! Welcome an addition to the family with a beautiful flower arrangement or gifts. Flower centerpieces add to the decor of any baby shower, and every new mom needs a corsage for the event. Hoping for a unique shower gift? Customized, new baby gift baskets are always a great way to let someone know you care. INLAND BOUQUET FLORIST will fill your new baby gift basket with gourmet snacks, accessories, flowers, or stuffed animals that are sure to excite any new mommy. Top off your unique new baby gift from INLAND BOUQUET FLORIST with a balloon bouquet. Browse and purchase online from our selection of baby floral arrangements designed with a baby girl or baby boy in mind. Stop by our store or give us a call to place an order for something truly special. Let INLAND BOUQUET FLORIST in San Bernardino, CA take care of all your new baby gifts.
Accessories and Add-Ons
But wait! There's More! No, this isn't an infomercial, but we also offer an assortment of add-ons to personalize each anniversary flower order. We offer Cookies from The Riverside Cookie Shoppe. The highly regarded Cookie Shoppe has turned heads for over a decade in the City of Riverside, CA. Send delicious and mouth-watering cookies with a balloon bouquet. We offer balloons from Alan's Party Supply - which deliver a large variety balloons from mylars to latex balloons! Send an adorable teddy bear or even a giant teddy bear!
Same-Day Delivery
While many flower shops only provide delivery within 48 hours, our shop is staffed with experienced florists' that know how to get the job done in half the time without ever cutting quality. During the seasonal holidays, we become quite busy. So, if you are considering sending flowers to your significant other, friends, or relatives for a newborn arrangement - you should always remember to give Inland Bouquet Florist some time to make your order. You should place an order at least a day before the delivery or pickup date. Need same-day flower delivery on your birthday flowers? Place your order before 2:30 PM, Monday - Friday, or by 12:00 PM on Saturday and we can deliver flowers on that very same day. Don't forget to write an amazing card message that will warm their heart with a special "Congratulations on the new addition to your family!"
Sending flowers is a thoughtful, simple way to demonstrate how much you care, and we have arrangements suitable for him or her. Whether it's a family member, colleague, or best friend, you'll find the perfect bouquet to add to the new family's joy.
Areas of Service
Riverside Bouquet Florist is a same-day delivery flower shop that provides flower arrangements in the city of:
San Bernardino
Loma Linda
Redlands
Rubidoux
Moreno Valley
Corona
Colton and surrounding areas.